Indexed in Emerging Sources Citation Index (WoS), Scopus, ERIH+, CEEOL and ProQuest.0
Communication Today is an academic journal from the scholarly fields of media studies and marketing communication. The Journal contains professional scientific reflections on the media and media competence; it also offers various academic discourses on the limits of reality, media thinking, new media, marketing and media relations, new trends in marketing (including their types and specifics), psychology and sociology of marketing communication, as well as new knowledge on the structure of media contents, marketing strategies and communication sciences. The professional public is offered an interdisciplinary, focused, targeted discussion.
---
Indexed in Emerging Sources Citation Index (WoS), CEEOL.
European Journal of Media, Art and Photography is scientific research journal in the field of mass media communication, which reflects contemporary forms of mass media background in the context of visual media. EJMAP reflects the theoretical and visual aspects of interconnection and interdependency of mass media platform. It mediates the studies of theoretical character, theoretical and empirical character, research results and their implementation in practice, with a focus on the visuality, and profiling the journal such as intermediary of the mass media and intermedia issues.
---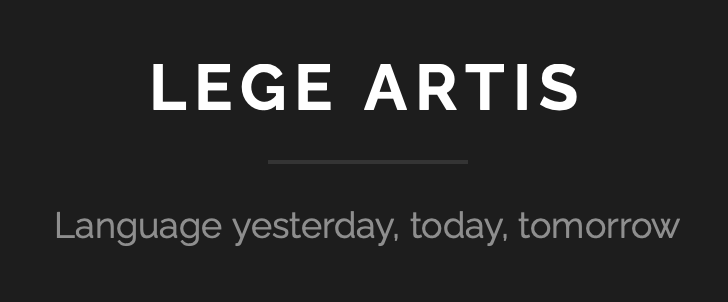 Indexed in Emerging Sources Citation Index (WoS), CEEOL, Baidu Scholar, Celdes, CNKI Scholar (China National Knowledge Infrastructure), CNPIEC – cnpLINKer, Dimensions, DOAJ (Directory of Open Access Journals), EBSCO (relevant databases), EBSCO Discovery Service, Google Scholar, J-Gate, JournalTOCs, KESLI-NDSL (Korean National Discovery for Science Leaders), Naviga (Softweco) ,Primo, Central (ExLibris), ProQuest (relevant databases), Publons, QOAM (Quality Open Access Market), ReadCube, Summon (Serials Solutions/ProQuest), TDNet, Ulrich's Periodicals Directory/ulrichsweb, WanFang Data, WorldCat (OCLC).
Lege artis. Language yesterday, today, tomorrow is a peer-reviewed journal of University of SS Cyril and Methodius in Trnava published twice a year (June and December). The Journal welcomes papers within various branches of linguistics: phonetics and phonology, grammar, stylistics, texts linguistics, cognitive aspects of language, etc. but mainly within the fields of expertise of our editors and official external reviewers. In Latin "lege artis" means according to the law of the art, skillfully, according to all the rules, properly, perfectly.
---
Indexed in Central and Eastern European Online Library, CEJSH, IOI (Journal Master List), ERIH+.
Acta Ludologica is a double-blind peer-reviewed scientific journal published twice a year in both online and print versions. It focuses on the comprehensive discourse of games and digital games, including theoretical and empirical studies, research results, and their implementation into practice, as well as professional publication reviews and scientific reviews of digital games.
Journal issues include scientific reflections on digital and non-digital games, and related media and digital competencies, their creation, design, development, research, history, sociology, psychology, marketing, and the future associated with phenomena of the digital-gaming sector.